Our Story
Our Vision
Our vision is to be your trusted resource for skin health and education. We have spent years carefully building a one-of-a-kind team to bring you the best information written, vetted, and peer reviewed by leading experts in medicine and cosmetics. By blending natural and modern science, we help you look and feel radiant from the inside out.
Our Values
Education – to inspire the best versions of ourselves
Harmony – to integrate different approaches for healthy living
Listening – to actively seek what our community needs to enact global change
Innovation – to push the limits of our knowledge further
Join Our Team
If you are interested in joining our team, please send your resume to info@dermveda.com.
Partner with Us
Be a special guest author with Dermveda. We welcome multiple perspectives and are always looking for experienced bloggers or medical professionals to write original content for our site.
Dermveda Integrative Content Team
Advisory Board
Business Operations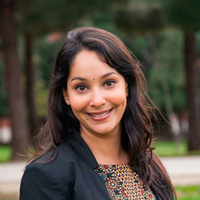 Venita Sivamani, MBA
CEO
Venita Sivamani has focused her efforts on educational equity and leadership for nearly a decade. As a teenager and young adult with acne, Venita struggled to find effective ...
More >
Natalie Stone
Director of Marketing
Natalie is extremely passionate about digital marketing. She has experience marketing at venture capital firms along with startups. She is dedicated to making ...
More >
FAQs
What is Dermveda?
Dermveda integrates traditional and modern medicine to create personalized information about holistic skin wellness. Our online platform provides skin resources, including functional education, tools, products, and directories. With a team of dermatologists and physicians in collaboration with alternative medical practitioners, Dermveda brings a new interdisciplinary approach to skin care.
How did Dermveda start?
Dermveda is based on a common realization that there is no single medical system that can address all health problems. Allopathic, or "Western," medicine has made huge advances in many areas of medical care that have truly changed our ability to fight disease. However, allopathic medicine has limitations where other medical systems may have advantages. Our goal is to seek out the strengths in many forms of medicine and unite those perspectives to discover truly holistic answers to skin health and wellness.
Do you provide medical consultations?
We aspire to deliver high quality educational material that will help you incorporate allopathic and alternative medical philosophies regarding skin health and wellness. We do not provide medical consultations. For medical consultations, we ask that you follow up with your local doctor.
What makes Dermveda different from other medical websites?
We have a passionate team of dermatologists and alternative medical practitioners who have curated one of the most extensive skin health libraries that can be customized to you. Through our tools and content, you can learn about how to create healthy skin from the inside out. We integrate Western and Eastern medicine to personalize solutions for all skin needs.
Who is providing the information for Dermveda content?
We have an integrated team of allopathic medical doctors, research scientists, and professional alternative medical practitioners involved in creating and editing Dermveda content.